Description
HIMO ZB20 MAX Fat Tyre Folding E-Bike Electric Bike
HIMO ZB20 MAX Fat Tyre Folding E-Bike Electric Bike
Why Fat Tyres are better
Improved stability and control: Fat tyres provide a wider contact patch with the ground, which enhances stability and control. This is particularly beneficial when riding an e-bike electric bike at higher speeds or on uneven terrain.
Increased traction: The larger surface area of fat tyres means that they provide more traction on loose or slippery surfaces, such as sand, gravel, snow, or mud. This can help prevent slipping or sliding and improve overall safety while riding.
Enhanced comfort: Fat tyres have a larger volume of air that can be run at lower pressures, providing more cushioning and absorbing bumps and shocks in the terrain. This can reduce the impact on the rider's body, resulting in a more comfortable ride.
Better handling on corners: The increased stability and grip provided by fat tyres can also enhance cornering ability, allowing riders to take turns at higher speeds without losing control.
Suitable for a range of riding styles: Fat tyres are versatile and can be used for a range of riding styles, including commuting, touring, mountain biking, and beach cruising. They can handle a variety of terrain types and provide a smoother ride experience overall.
Key Features
If you often have trouble commuting because of mud, gravel, and other complicated road conditions, I believe the HIMO ZB20 Max can help you. High-quality body texture, powerful with fat tyres and front fork dampening, such cost-effective features make HIMO ZB20 unique and attractive in comfort, appearance, and style
Range: 80 Km Max Range
Speed: 25 Km/h
Suspension: Alloy Front Suspension Fork With Lockout And Adjustment
Tires: CST 20″×4″
Weight: 28 Kg
Transmission: 6-Speed Shimano
Pedal Assist Cadence
Extras: Mud Guards
Assist Intelligent 0-3 level pedal assist
Rider Heights: 160cm-190cm
Weight Capacity: 120 Kg
CE Certification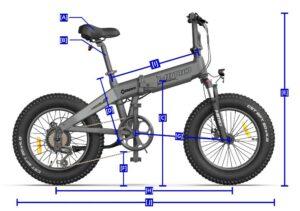 Himo The Best Folding E-Bikes The Perfect Combination of Convenience and Performance
1 HIMO C26 MAX E-Bike
2 HIMO ZB20 MAX Fat Tyre Folding E-Bike
3 HIMO Z20 Folding Low Step Through E-Bike
4 HIMO Z16 Electric bike with low step-through frame
Himiway Takes The Lead As The Best Folding Motorhome E-Bike
Wish List on "Buy Me a Coffee" It would be so awesome if you could support me and help better my content on YouTube. https://www.buymeacoffee.com/johnnyburr/w/6969Shop
YouTube Channel youtube.com/@johnnysbackyard/?sub_confirmation=1
Why not join our Facebook Group Motorhome Touring Scotland? https://www.facebook.com/motorhometouringscotland
Sign up for Johnny's Backyard online Store for Motorhome & Caravan Accessories Newsletter and we will let you know when new products are released. Newsletter link: http://eepurl.com/hND3Ir
Motorhome & Caravan Accessories Website Store https://www.johnnysbackyard.co.uk
Check out the Useful Links Page for more goodies
https://johnnysbackyard.co.uk/useful-links-and-things/recommended-campsites/
https://c8ke.com/johnnysbackyard
Support the shop https://www.paypal.com/donate/?hosted_button_id=MZ4U3STTL4YV6
YouTube https://www.youtube.com/channel/UCMO8bf5oorGtPxHGCPzg6bw/?sub_confirmation=1
Twitter https://twitter.com/MotorhomeandC
Instagram https://www.instagram.com/johnnyburr3