Bluetti Power Stations and Solar Generators: Revolutionizing Portable Power

Introduction:
In an era where sustainable energy solutions are gaining increasing importance, Bluetti has emerged as a leading brand in the field of portable power stations and solar generators. With their innovative technology and commitment to green energy, Bluetti has transformed the way we access electricity on the go. In this article, we delve into the technical details and testimonials of Bluetti power stations and solar generators, showcasing their reliability and versatility.
Bluetti Power Stations: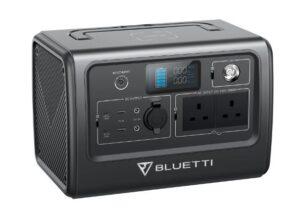 Unleashing Unlimited Power Bluetti power stations are robust, portable energy solutions designed to provide a dependable power source in various settings, from outdoor adventures to emergency situations. These power stations incorporate cutting-edge lithium-ion battery technology, coupled with advanced power management systems, to deliver efficient and reliable electricity when and where you need it.
One standout feature of Bluetti power stations is their impressive capacity range. From the compact Bluetti EB70 to the mighty Bluetti AC200 Max, each model offers a varying power capacity, ensuring there's an ideal choice for every need. The power stations boast a combination of AC, DC, and USB outputs, enabling users to charge and power a wide range of devices simultaneously, such as laptops, smartphones, drones, and even small appliances.
Bluetti Solar Panels:
Harnessing the Power of the Sun Complementing their power stations, Bluetti offers high-quality solar panels that harness the abundant energy of the sun. These solar panels are crafted using premium monocrystalline silicon, guaranteeing maximum efficiency and durability. With a wide range of panel sizes and configurations available, users can choose the perfect fit for their power station and energy needs.
The Bluetti solar panels are equipped with advanced MPPT (Maximum Power Point Tracking) technology, optimizing the conversion of solar energy into usable electricity. This ensures that even in challenging weather conditions, such as low light or partial shade, the panels continue to generate power efficiently. Additionally, the panels are designed to be lightweight and easy to set up, making them an ideal companion for outdoor adventures or off-grid living.
Testimonials:
Real-Life Experiences Speak Volumes Bluetti's commitment to customer satisfaction is evident in the countless positive testimonials from satisfied users worldwide. Here are a few testimonials that highlight the excellence of Bluetti power stations and solar generators:
Johnathan Roberts, an avid camper, "I recently took my Bluetti AC200P on a week-long camping trip, and it exceeded my expectations. It powered our fridge, charged our devices, and even ran a small fan at night. The solar panel charging option was a game-changer!"
Sarah Thompson, a camping musician, expressed her satisfaction with the Bluetti solar generator, stating, "Living in a region with unpredictable weather, the Bluetti EB240 has been a lifesaver. Its ability to charge using both solar and wall outlets has kept my essential devices powered has been essential."
Mark Johnson, a professional photographer, praised the versatility of Bluetti power stations, saying, "As a photographer, I often work in remote locations. The Bluetti AC50S has been a game-changer for me. It powers my camera gear, charges my drone batteries, and even runs my portable studio lights. It's a reliable companion that I can't imagine working without."
Conclusion:
Bluetti power stations and solar generators have revolutionized portable power by offering efficient, versatile, and eco-friendly solutions. With their range of power station models and high-quality solar panels, Bluetti ensures a reliable energy source in various scenarios. The testimonials from satisfied customers further emphasize the brand's commitment to excellence. Whether you're an outdoor enthusiast, a frequent traveler, or someone preparing for emergencies, Bluetti is poised to provide the portable power solution you need. Embrace the power of Bluetti and unlock a world of unlimited possibilities.
The Bluetti Range
1BLUETTI AC200MAX Expandable Power Station 2200W 2048Wh
2 BLUETTI AC200P Portable Power Station 2000W 2000Wh
3 BLUETTI EB70 Portable Power Station 1000W 716Wh
4 BLUETTI EB55 Portable Power Station 700W 537Wh
5 BLUETTI EB3A Portable Power Station 600W 268Wh
6 BLUETTI AC200MAX + PV350 Solar Generator Kit
7 BLUETTI AC200P + PV200 Solar Generator Kit
8 BLUETTI EB70 + PV200 Solar Generator Kit
9 BLUETTI EB55 + PV200 Solar Generator Kit
10 BLUETTI PV68 Solar Panel 68W
11 BLUETTI PV120 Solar Panel 120W
12 BLUETTI PV200 Solar Panel 200W
14 BLUETTI PV350 Solar Panel 350W
Motorhome & Caravan Accessories Website Store https://www.johnnysbackyard.co.uk
Free Off-Grid Motorhome Camper Van Guide https://johnnysbackyard.co.uk/c7kc
Wish List on "Buy Me a Coffee" It would be so awesome if you could support me and help better my content on YouTube. https://www.buymeacoffee.com/johnnyburr/w/6969Shop
Holiday Heath – Start your vacation the healthy way – Download a Free 20 page booklet on "The Benefits of Collagen"https://fbatb.clickera.com/1f5da9feb947
YouTube Channel youtube.com/@johnnysbackyard/?sub_confirmation=1
Why not join our Facebook Group Motorhome Touring Scotland? https://www.facebook.com/motorhometouringscotland
Sign up for Johnny's Backyard Online Store for Motorhome & Caravan Accessories Newsletter. Newsletter link: http://eepurl.com/hND3Ir
Check out the Useful Links Page for more goodies
https://johnnysbackyard.co.uk/useful-links-and-things/recommended-campsites/
https://c8ke.com/johnnysbackyard
Support the shop https://www.paypal.com/donate/?hosted_button_id=MZ4U3STTL4YV6
YouTube https://www.youtube.com/channel/UCMO8bf5oorGtPxHGCPzg6bw/?sub_confirmation=1