Description
r:Eleglide Electric Mountain E-Bike M1 Plus
In the realm of electric bicycles, Eleglide has gained prominence with its innovative and powerful e-bike models. One such standout is the Eleglide Electric Mountain E-Bike M1 Plus, a cutting-edge two-wheeler designed to redefine the thrill of off-road adventures. Combining the exhilaration of mountain biking with the convenience of electric assistance, the M1 Plus offers riders an unparalleled experience. In this article, we delve into the key features and functionalities of the Eleglide Electric Mountain E-Bike M1 Plus, showcasing its unique attributes and why it has become a sought-after choice among biking enthusiasts.
Powerful Electric Performance:
The Eleglide Electric Mountain E-Bike M1 Plus is built for conquering challenging terrains with ease. It is equipped with a high-performance electric motor that delivers an impressive power output, enabling riders to effortlessly navigate steep inclines and rough trails. The motor is seamlessly integrated into the frame, providing a sleek and aerodynamic design while maintaining the bike's balance.
Enhanced Riding Experience:
One of the most notable aspects of the M1 Plus is its pedal-assist system, which provides varying levels of electric assistance to the rider. This feature allows cyclists to customize the level of assistance they desire, making it suitable for both beginners and experienced riders. The bike's intelligent sensors detect the rider's pedaling motion and provide an extra boost, ensuring a smooth and enjoyable ride.
Durable and Agile Design:
Crafted with meticulous attention to detail, the Eleglide Electric Mountain E-Bike M1 Plus boasts a sturdy and lightweight frame constructed from high-quality materials. This combination ensures optimal durability while maintaining the bike's agility on the trail. The M1 Plus also features top-of-the-line suspension components, such as front forks and rear shocks, which provide excellent shock absorption and enhance overall control.
Extended Battery Life:
The M1 Plus comes equipped with a long-lasting lithium-ion battery, offering riders an extended range and minimizing the need for frequent recharging. With its advanced energy management system, the bike optimizes power consumption and allows riders to explore longer distances, making it an ideal choice for adventurous journeys into nature.
User-Friendly Controls and Display:
Eleglide has prioritized user convenience in designing the M1 Plus. The bike is equipped with an intuitive control panel and an LCD display that provides riders with real-time information such as speed, distance traveled, battery level, and selected assistance level. This user-friendly interface ensures that riders can easily monitor their performance and adjust settings as per their preferences.
Safety Features:
Safety is paramount, and Eleglide has incorporated several features into the M1 Plus to ensure a secure riding experience. The bike is equipped with responsive disc brakes, delivering reliable stopping power even on slippery surfaces. Additionally, the M1 Plus features built-in LED lights for enhanced visibility during low-light conditions, adding an extra layer of safety for riders.
Conclusion:
The Eleglide Electric Mountain E-Bike M1 Plus stands at the forefront of innovation in the e-bike industry, combining power, performance, and versatility into a single package. With its powerful electric motor, customizable pedal-assist system, durable design, and extended battery life, this e-bike offers riders an unmatched experience on mountainous terrains. Whether you're an avid cyclist seeking a new adventure or someone looking to explore the outdoors in an eco-friendly way, the Eleglide Electric Mountain E-Bike M1 Plus is a formidable choice that delivers on all fronts.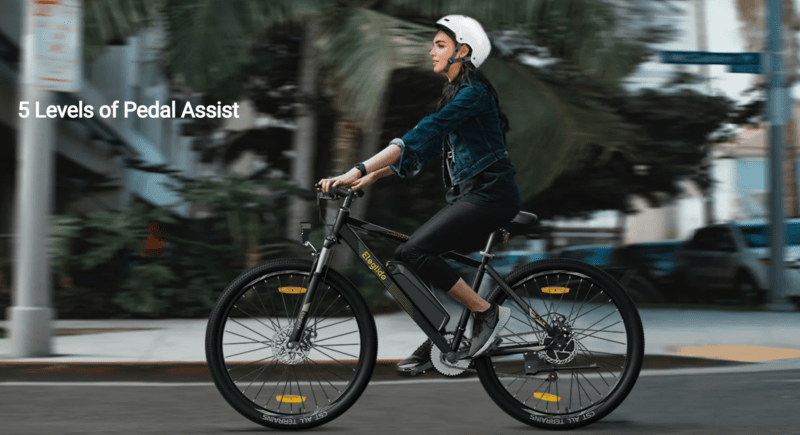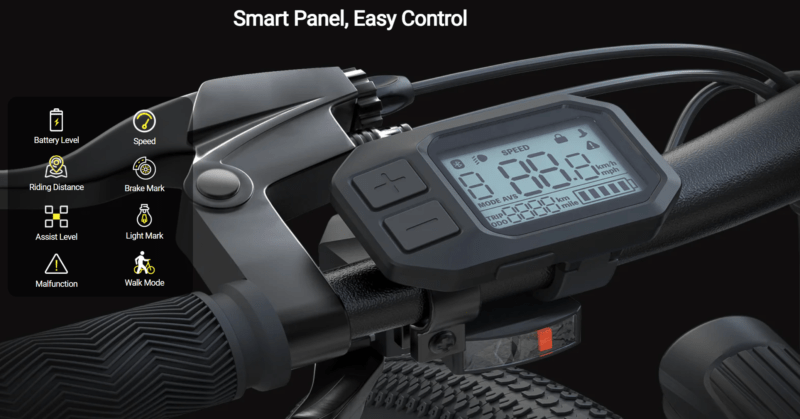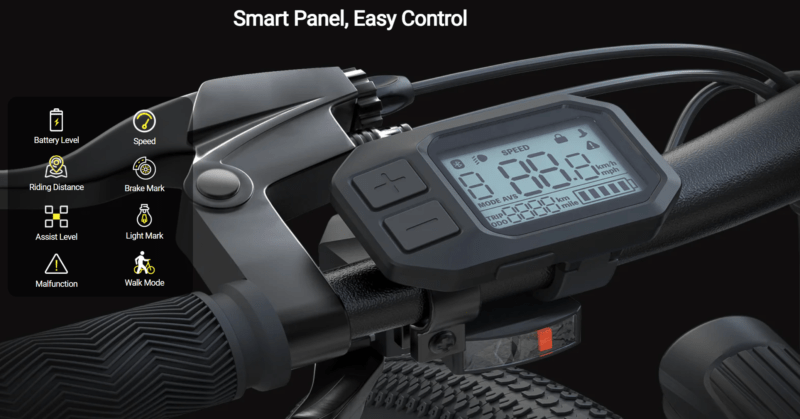 General
Brand: Eleglide Type: Mountain Bike
Model: M1 Plus Color: Black
Material: Aluminum Alloy Size of Frame: : Wheel Size M( 27.5″): 27.5″X18″ Wheel Size L(29″): 29″ x 19″
SPECIFICATION
Max Range: 100km (Assist Mode), No Limit (Manual Mode) Test Condition: The max range is achieved with a 75kg load and a constant speed of 15km/h on flat roads without strong winds at 26°C.
Max. Speed: 25 km/h Max. Load: Wheel Size M (27.5″): 100 kg
Wheel Size L (29″): 120 kg
Slope: 15° Motor: 250W 36V, 210 (Max RPM), 45N.M (Max Output Torque), 400W (Max Inst. Power)
Motor Brand: XOFO Motor Battery: 12.5Ah, 36V, 450Wh, with Battery Protection System
Charger Output: 100-240V 2A (Input), 42V 2A (Output) Charging Time: About 7 hours
Derailleur: 21 Speed Shimano Gear (Front 3, Rear 7) Braking System: Dual Disc Brakes & Auto Power-off Design
Front & Rear Brake: Mechanical Disc-160mm Rotor Suspension: Hydraulic Damping with Lockout
Fork: Hydraulic with Lockout-100mm travel Tires: Wheel Size M (27.5″): 27.5″x2.1″ or  Wheel Size L (29″): 29″x2.1″ CST Pneumatic Rubber Tires, 45-65PSI (Tire Pressure)
Chain Plate: 42T 34T 24T Light: LED, 1.65W, 20° (Beam Angle), 0.5㎡ (Irradiated Area)
Display: Intelligent LCD Display Waterproof Rate: IPX4
Recommended height of cyclists:
Wheel Size M (27.5″): 165-195cm (5.41ft-6.4ft)
Wheel Size L (29″): 165-200cm (5.41ft-6.56ft)
Performance
5 Speed Mode
Gear : Speed
1: 12 km/h
2: 16 km/h
3: 20 km/h
4: 23 km/h
5: 25 km/h
Weight and Size
Size (M: 27.5″) Size (L: 29″)
Weight: 21.7 kg (N.W.) 27 kg (G.W.) Weight: 22.8 kg (N.W.) 29.8 kg (G.W.)
Package Size: 1480x240x770mm Package Size: 1480x230x790mm
Unfolded Size: 1790x680x1041mm Unfolded Size: 1810x700x1080mm
Height of Saddle (From The Ground):
850-1050mm (33.5″-41.5″) Height of Saddle (From The Ground):
870-1050mm(34.3″-41.5″)
Length of Handlebar: 680mm (26.8″)
Length of Handlebar: 700mm (27.6″)
Package Contents
1 x M1 Plus Bike 2 x Pedal
1 x Charger 1 x Tool Kit
2 x Key 1 x User Manual
2 x Spoke Reflector 1 x Rear Reflector
Motorhome & Caravan Accessories Website Store https://www.johnnysbackyard.co.uk
Free Off-Grid Motorhome Camper Van Guide https://johnnysbackyard.co.uk/c7kc
Wish List on "Buy Me a Coffee" It would be so awesome if you could support me and help better my content on YouTube. https://www.buymeacoffee.com/johnnyburr/w/6969Shop
Holiday Heath – Start your vacation the healthy way – Download a Free 20-page booklet on "The Benefits of Collagen" https://fbatb.clickera.com/1f5da9feb947
YouTube Channel  youtube.com/@johnnysbackyard/?sub_confirmation=1
Why not join our Facebook Group Motorhome Touring Scotland? https://www.facebook.com/motorhometouringscotland
Sign up for Johnny's Backyard Online Store for Motorhome & Caravan Accessories Newsletter. Newsletter link: http://eepurl.com/hND3Ir
Useful Links https://johnnysbackyard.co.uk/useful-links-and-things/recommended-campsites/
C8ke page  https://c8ke.com/johnnysbackyard
Support the shop https://www.paypal.com/donate/?hosted_button_id=MZ4U3STTL4YV6
YouTube https://www.youtube.com/channel/UCMO8bf5oorGtPxHGCPzg6bw/?sub_confirmation=1