Motorhome Cupboard Hinge Repair Plate
A Disaster – Motorhome Repair
It was a bright, sunny, and surprisingly warm morning at the Invercoe Caravan & Camping Park, Glen Coe, overlooking Loch Leven, as I prepared breakfast, the motorhome usual, a feast of a bacon butty and a cup of coffee. The Table and chairs were set outside in the morning sun. I was looking forward to a leisurely drive to The Croft Caravan & Camping Site near Arisaig with a stop mid-morning for more coffee along the way ( you can never have too much coffee )
Bacon Butty
With Bacon butty and a coffee in hand, I turned towards the habitation door and basically tripped over the open cupboard door below the sink! I staggered and stumbled trying to avoid the door but it was to no avail, I couldn't have done a better job if I had kicked the bottom of the door! Essentially this stumble and stagger that had looked like a scene from 'Some Mothers Do Have Them' had broken the cupboard door lower hinge and pulled it out of the wood leaving a splintered mess and the now disfigured door laying at an angle looking very sorry for itself.
I was so disheartened by the embarrassing event and I felt empty that my lovely motorhome was now no longer perfect in every way. As a temporary fix, I used gaffer tape to hold the door in place but this meant that the cupboard could no longer be used and the black tape all over it constantly reminded me of my damaged motorhome.
Genius Idea
While I searched on the internet for ways to fix this, I discovered a genius idea of using ready-made metal plates that can be screwed in place around the damaged area, holding the hinge in exactly the correct place, and still be fully adjustable!! Why don't manufacturers use this method to reinforce the hinge mounting locations to prevent this from happening!! Needless to say, I order the plates and they were waiting for me when I returned home.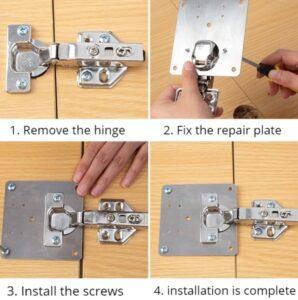 With the door now fixed and looking like new again, I am a happy bunny! Carrying these items in my tool kit means that, god forbid anything like this happens again it can be fixed in a very short time, and there lays the tip!! Be like me and carry these hinge plates in case you use your size 9's to redesign the interior of your motorhome or caravan.
Buy Now
Hinge Repair Plates
🙂
https://johnnyburr.blogspot.com/2023/09/cupboard-hinge-repair-plate-disaster.html
Why not join our Facebook Group for Tips and Suggestions, and when new products are released
Check out the Useful Links Page for more goodies
A Disaster – Motorhome Repair
Are you thinking of hiring a motorhome?
Driving a motorhome for the first time in the UK
Tips on Wild Camping in Scotland
Disaster with a motorhome cupboard
Single words Multiple words Two parts
accordingly above all both 
additionally after all if 
afterward after that not only
afterwards all in all neither 
albeit all of a sudden whether 
also all things considered no sooner
although analogous to
altogether although this may be true
another another key point
basically as a matter of fact
because as a result
before as an illustration