NC500 – North Coast 500
The 516-mile route around Scotland's stunning north shore is a legendary Scottish motorhome road trip. To help you have the greatest Scottish vacation ever, we give highlights, suggestions for activities and things to do along the route, suggested NC500 campgrounds, and travel information.
The route is not cast in stone and it is very much encouraged to venture off the route and explore the smaller communities along the way. This is where a small amount of planning is needed but don't overthink it, just take your time, the leisurely pace will make the whole experience much more enjoyable.
NC 500 Route
The NC500 Route
The North Coast 500 route, which begins and ends in Inverness, travels through lonely and rugged areas along Scotland's stunning shoreline. The NC500 route is one of the must-do motorhome routes in the UK, featuring dramatic roads and amazing vistas.
Many people wonder how long it takes, and the answer is always dependent on how much time you have! You might do the entire thing in a couple of weeks (at most), or you could pick a section that interests you, take your time, and be careful on the road.
Inverness
Inverness, one of Scotland's seven cities, is located in the south of the Highlands, on the banks of the River Ness, and serves as both the start and finish point for your North Coast 500 journey. Inverness is a lively city with a great range of sites to see and activities to do, both in the city itself and in the surrounding region, crowned by a wonderful castle and tastefully planted with flowers.
Inverness
Highlights
Follow in the footsteps of the many legendary Loch Ness monster hunters. Hire a boat, take a packed lunch and your camera out on the water. You won't see Nessie, but you will be surrounded by beautiful landscape, fresh air, and plenty of space to relax.
Make your way to Inverness's evocative Old Town, the Victorian Market will provide you with all the Scottish souvenirs you could ever want!
Visit the eerie battlefield of Culloden, the site of the Jacobite rising's last and brutal fight which led to the fall of Charles Stuart's army in 1745. At the adjacent Culloden Visitor Centre, you can learn much more about this pivotal period in Scottish history.
Admire Inverness Castle, which stands high on the banks of the River Ness and has a pink crenellated exterior. The Area around Inverness is home to a total of 67 Scottish castles!
A hike up to Craig Phadrig, which is located to the west of the city, provides excellent forest treks and magnificent views of the Moray Firth, it was also formerly the stronghold of Pictish rulers.
Fans of the novel and television series 'Outlander' may also explore the region's filming locations and venues. Outlander Locations
The Best Campsites in Inverness
Ardtower Caravan Park is in a beautiful setting, high above Inverness and close to Culloden. An award-winning site with modern facilities and spacious hard-standing pitches, this is a great base from which to explore Inverness and the surrounding area.
Bunchrew Caravan Park is on the edge of Beauly Firth and enjoys wonderful views over the water to Ben Wyvis and the hills beyond. Another great spot to explore from.
Situated on the banks of the Caledonian Canal, Torvean Caravan Park is located just over a mile from the centre of Inverness, perfect for those wanting to explore the city.
Easter Ross
Easter Ross is a historic territory north of Inverness, bordered on the east by the Moray Firth, the north shore of the Cromarty Firth, and the south shore of the Dornoch Firth.
There's a lot to enjoy here, with coastal settlements giving spectacular vistas and lots of sea life to look out for, as well as the Highland remoteness in the inland forestry regions. Take your time and enjoy the route northwards.
Best Bits
Learn about The Picts at the Tarbat Discovery Centre in Portmahomack, as well as the lovely seaside villages of Shandwick, Balintore, and Hilton. The Picts were a wild tribe in late Iron Age Scotland who held their territory and stopped the Romans from capturing all of Britain.
Visit the Dalmore Whisky Distillery in Alness for a tour. The Dalmore whiskies are considered one of the top luxury whiskey brands in the world, and they retail for thousands of pounds. Take a tour and maybe a wee dram (but only if you're not driving!) to see what all the hype is about.
Hike up to the massive Fyrish Monument for panoramic views of the Cromarty Firth.
Hike up to the massive Fyrish Monument for panoramic views of the Cromarty Firth and Ben Wyvis Mountain.
Visit the Touchstone Maze near Strathpeffer, which is made out of 81 different rock types from all across Scotland and is an excellent opportunity to learn about the country's complicated geology.
Walk up to the magnificent Black Rock Gorge, a one-mile-long, 40-meter-deep gorge in the rocks carved out by the River Glass pouring down to the Cromarty Firth during the Ice Age. The ravine was used as a filming site for 'Harry Potter and the Goblet of Fire' in 2004 and is essential for Harry Potter lovers.
Campsites in Easter Ross
The Black Rock Caravan Park in Evanton, about a mile off the A9 North Coast 500 route, is in a fantastic location. This is a fantastic stop on the route north, with excellent touring pitches and services.
Dornoch Caravan & Camping Site is a quiet, family-run campground in the Scottish Highlands. The east coast property, which is surrounded by gorgeous rural and coastal landscapes, with vast views of the magnificent Dornoch Firth.
The Black Isle's Fortrose Bay Campsite is located on a pebble beach with direct access to the Moray Firth and spectacular views. Chanonry Point, a wide natural sand bar to the east of the campground, is a twenty-minute walk away.
Caithness
Caithness lies right at the top of the UK, home to John O'Groats and Dunnet Head, the most northerly point of the UK mainland. Because it is so far north, it is possible to see the Northern Lights from here under ideal conditions and Sun rises at 4am and Sunsets as late as 10:35 pm in mid-June.
The broad open countryside is rich in ancient artefacts, and the rugged coastline has soaring sea stacks and towering headlands, which are home to puffins and many other marine birds.
Highlights
See the enigmatic Hill O'Many Stanes, where 200 tiny stones were set out in a radiating pattern over 4,000 years ago…for no apparent reason.
The five-mile stroll from John O'Groats to Duncansby Head is a great opportunity to take in the sea air then continue along the scenic coastal route to see the two magnificent pointed sea stacks.
Visit the Castle of Mey, which The Queen Mother purchased in 1952 and had it rebuilt after it was abandoned. This is an amazing site, with fantastic grounds and an interesting insight into a castle that functioned as a holiday getaway for the royal family.
Explore the route's diverse and unique brochs. The broch is a massive stone tower and ancient house found solely in Scotland, dating back to 500 B.C. Both Dunbeath Broch and Nybster Broch are great examples, and both are near to the Caithness Broch Centre, where you can learn more about them.
Take (another) brisk stroll across the wild and untamed environment of Dunnet Head, an RSPB nature reserve. You could spot puffins in this loud sea-bird nature reserve if you're lucky, especially if you go during the nesting season, which runs from late spring to early summer.
Best Campsites in Caithness
Dunnet Bay Caravan & Motorhome Club Site is a great place to stay. You do not have to be a member to stay, but you will receive a discount if you are. It's one of the nicest campgrounds on the north coast, ideal for individuals who prefer privacy, breathtaking vistas, and lengthy beach walks.
Dunnet Bay
Murkle Caravan Park in the same-named settlement is simple, yet it provides everything you need and is pet-friendly. This is a wonderful setting for a few days exploring the nearby region, with a nice one-mile beach stroll right from the property.
Windhaven Cafe, Camping and B&B, the most northerly campsite on the UK mainland, is a favourite NC500 camping destination. In addition, the café is the furthest north on the NC500! From its fantastic cliff-top location, the facility overlooks Brough Bay, where you can relax and watch the seals from their seal observation point.
Sutherland
A substantial portion of the NC500 route runs through this rugged and magnificent countryside, which is one of Europe's remaining big wildernesses.
The shoreline on this portion of the journey is unspoiled, with wide sandy beaches and the jagged and aptly called Cape Wrath cliffs.
This is a favourite section of the journey for many people because of the breathtaking beauty and rich natural history.
Highlights
Spend a day at Dornoch, a lovely ancient town in Sutherland's southeastern corner that overlooks the same-named firth. The town is definitely worth a visit, with its 13th-century cathedral, mediaeval prison, and Dornoch Castle, a former bishop's seat, among its attractions.
Smoo Cave
Smoo Cave has one of the biggest entrances to any sea cave in Britain, measuring 15m high and replete with its own waterfall.
Enjoy the raw and wild sea air of Cape Wrath, a site of Special Scientific Interest and mainland Scotland's most northerly point. This is a really secluded location, only reachable by ferry or minibus.
Hike to Sandwood Bay Beach to see the Am Buachaille sea stack, a vestige of millions of years ago when the Highlands and North America were united.
The UNESCO Global Geopark of the North West Highlands is worth a visit, it has a geological rich landscape of world-class quality, significance, and relevance. And a fantastic site to study the 3,000-million-year old geological history of one of Europe's least-populated regions.
Explore Stoer Head, a few miles north of [Lochinver's] charming hamlet. Beautiful views of islands and interior bays can be seen here, as well as the stunning white Stoer Lighthouse and the magnificent Old Man of Stoer, a 60-meter-high sandstone sea stack.
Stoer Head Lighthouse
With white sands and brilliant blue waves, Achmelvich Beach is one of the most beautiful beaches in the vicinity. It's a hotspot for water sports like windsurfing and water skiing, and if you have an inflatable canoe or SUP board, here is a perfect spot to inflate it and get out on the loch. You may find it easier to take the A894 main road from Ullapool and bypass the bulk of the B869 from Kylesku to Lochinver, which may be a difficult route for larger vehicles.
Best Campsites in Sutherland
Stay at the gorgeous Clachtoll Beach Campsite, which is situated on the edge of Clachtoll Beach and features crystal blue water and fantastic snorkelling; it's one of Scotland's top campgrounds. Before driving there, double-check the roads and the size of your vehicle; driving the long route on the coastline B869 won't work if you're in a huge motorhome.
Because you won't have to go as far down the B869, the Shore Caravan Site at Achmelvich Bay would be a better alternative. This is one of our favourite North Coast 500 campsites since it is located on the beach and has pleasant and welcoming proprietors.
Sango Sands Oasis Campsite, set on cliff tops above magnificent beaches with wonderful sea views, is highly recommended for camping. This is a spot where you might easily spend a week exploring the surrounding region and discovering the vistas and wildlife in the region.
Wester Ross
Known for its stunning scenery, which includes old glens, Caledonian woods, steep mountain peaks, and beautiful beaches. The drive through Wester Ross is an experience and a highlight for many NC500 tourists, with classic roads and breathtaking views. There are loads to keep you occupied in this lovely region of Scotland, from bagging a Munro to whale watching, touring castles, and admiring stunning gardens.
Highlights
You could encounter dolphins, otters, sharks, seals, puffins, and even a white-tailed eagle if you go whale watching from Gairloch. From mid-June to late September is the ideal season to watch whales off the west coast of Scotland.
Admire the Corrieshalloch Gorge, a magnificent gorge that passes across a lush Highland landscape. Watch as the River Droma cascades over a succession of waterfalls, culminating in the massive 45-meter Measach Falls.
Inverewe Garden
Inverewe Gardens, positioned high on a peninsula at the edge of Loch Ewe, is a verdant, tropical sanctuary. One of Scotland's most popular botanical attractions, this world-famous historic garden is bordered by estates managed for conservation.
Explore the forests of the UNESCO Biosphere Reserve Beinn Eighe National Nature Reserve, which are home to 350-year-old Scots Pines, relics of the ancient Caledonian forest that originally stood here.
Climb Beinn Eighe, one of Torridon's greatest Munros (mountains that exceed 914 metres), one of the NC500's 37 Munros. From the peak, the vistas of the Torridon Hills are just breathtaking.
Beinn Eighe
Drive the fabled Applecross Pass, one of Scotland's greatest and highest roads. Bealach na Bà is a small slip of a road with hairpin fast turns and steep gradients that your motorhome may or may not be able to handle.  If you insist on going ahead, do some study on the ideal times to travel and potential risks to be wary of, especially if this is your first trip on this sort of road (there are loads of videos on YouTube). Many motorhomes are capable of doing so, but you should only undertake it if you are competent at driving your motorhome in these conditions.
As an alternative to getting to Applecross, the coastal road via Ardheslaig and Kalnakill is fantastic and has equally good if not better views and some superb places to stop for coffee or lunch.
The three videos below are driving to Applecross in a 7.5m Autotrail Motorhome, via Shieldaig along the coastal road. The first video is a heavily edited version, about 3:30 long. The second two cover the whole drive in 2 parts, one at 59 minutes and the other at about half an hour. Combined these two are the entire drive from Kinlochewe to Applecross.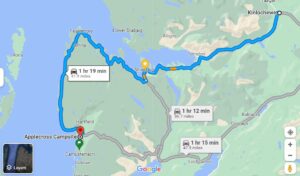 Kinlochewe to Applecross via Shieldaig coastal route
Best Campsites in Waster Ross
Inverewe Gardens Poolewe Camping and Caravanning Club Site is a great place to stay. This tree-lined site is well laid out, with excellent amenities and spectacular sunsets.
Kinlochewe Caravan Club Site sits at the foot of Beinn Eighe's craggy slopes, at the end of a scenic journey from Achnasheen down Glen Docherty. Stop here for a few days to explore the Torridon Hills and the surrounding region.
The Applecross Campsite is located at the bottom of the pass, which snakes down to Applecross. It's a great place to stop after a long day of travelling, with great views of Applecross Bay and Skye. The Applecross Inn provides great meals and in the summer, a relaxing evening watching the sun go down over a few drinks.
What time of Year is the best?
Spring
Late April is an excellent time to take a road trip to Scotland. As the milder weather arrives and the transition to summer begins, the countryside comes alive with wildflowers and newborn animals. However, it will be cold, especially at night, and you will require some form of heating in your vehicle.
Summer
Summer is one of the greatest times to visit Scotland in a motorhome, with summer temperatures averaging approximately 20°C. On the downside, popular routes, attractions, and North Coast 500 motorhome stops (both campsites and popular wild camping spots) will be crowded, so a summer road trip through Scotland will necessitate a little more planning, and you may need to book your favourite North Coast 500 campsites ahead of time.
During school holidays is the busiest so try and plan around them, but note, Scottish School summer holidays are different to England's.
The months of July and August are also the worst for biting midges, especially if you plan on visiting the west coast, where they are most prevalent. They love a still, warm and humid day just after a rainy spell. There is repellant on the market such as Smidge and Avon's Skin So Soft, the latter used by the army when on exercise. Hats that have mosquito nets are a great form of defence and, they are a favourite with fishermen.
Autumn
Autumn is a fantastic season to visit Scotland in a motorhome since the autumn colours are some of the most spectacular in the world, and much of the tourist traffic has left, and the roads are much quieter.
Winter
Winter — Visit Scotland during the colder months for winter sports, stunning scenery, and the chance to view the Northern Lights, or 'Mirrie Dancers,' as they are commonly referred as in Scotland. As a general approximation, the country averages 15-20 snow days per year, with the Scottish Highlands seeing over 100 snow days per year, therefore certain routes may be blocked. Autumn is a fantastic season to visit Scotland in a campervan since the autumn colours are some of the most spectacular in the country.
Is it possible to camp in a campervan in Scotland?
In Scotland, there are lots of motorhome wild camping spots. Park4Night is a great way to discover the finest NC500 wild camping areas and campsites but make sure you respect the restrictions. There is a post here to give a few pointers on what to do and not to do.
Is it possible to rent a motorhome to travel the NC500 route?
Yes, you certainly can! Check out Open Road Scotland if you're looking for an NC500 Scotland motorhome rental. Within three hours, you can pick up your Motorhome in Glasgow and be in Inverness. Open Road Scotland also rents out campervans and motorbikes so no matter what kind of road trip you're looking for, they've got everything you'll need.
Are there any roads on the NC500 that aren't appropriate for heavy vehicles?
In certain spots, driving the North Coast 500 in a motorhome may be difficult, and there are a few routes you may wish to avoid, as well as several that would be a genuine challenge in a larger van. The North Coast 500 official guide is a great source for information on the route.
In general, campervan and motorhome drivers should keep the following in mind:
You should be comfortable driving on single track roads and you must be familiar with reversing your vehicle appropriately and securely.
Use a layby or one of the passing places if you are travelling at a leisurely pace to allow other road users to pass you safely.
Travelling in convoy, especially on single-track roads, can cause traffic congestion. Travel at least one passing place location apart at all times and consider two-way communication between your vehicles. This greatly helps with the separation of your convoy allowing cars to pass you and oncoming vehicles to move between you and the rest of your convoy.
Here are a few tips to keep in mind
Just take your time. It would be a pity to rush because there is so much to see and do along this wonderful route. You could do everything in seven days, but two or three weeks will give you the opportunity to explore and learn about this fascinating region of Scotland.
Always respect the Scottish Outdoor Access Code, whether you stop at NC500 campgrounds or wild camp since it helps to maintain the delicate flora and animals of this lovely nation.
The local authorities may impose limits on when motorhomes can use the road from time to time, many are beginning to provide European Aire style places to park up for the night or a few days. Check the official North Coast 500 website ahead of time.
Regularly check ahead to see what attractions are off the North Coast 500 motorhome route map that you might want to divert to — this is where you'll discover the true hidden treasures and off-the-beaten-path locations, including fantastic wild camping options.
Make sure to stop and talk with other motorhomers about routes, limits, and favourite locations to visit — you'll discover a lot of hidden treasures this way along the North Coast 500!
In the summer, book campsites ahead of time to avoid disappointment when you arrive.
If at all feasible, get a satnav that you can customise for your Motorhome if possible.  This will allow you to avoid any restricted routes that may not be suited for your vehicle's size, as well as any roads that are blocked due to bad weather.
Please dispose of any motorhome waste and rubbish appropriately and leave no evidence of where you've been, whether you're wild parking in your camper for lunch or visiting campgrounds along the North Coast 500.
Many regions have restricted 3G and 4G services, so if you have vital information, insurance documents, or reservations, make sure you download them before leaving Inverness.
Midges are a part of life in Scotland, especially along the NC 500 route's west coast. Their bites can range from moderately uncomfortable to creating an allergic reaction, so avoid them if at all possible on your trip.
Travel between November and February, which is the low season.
Use your fly screens at all times if you have them.
Before dusk, change into long sleeves and trousers and wear a midge veil or cap. Also socks and they have a liking to ankles believe it or not.
Parking or camping near stagnant water is not a good idea.
Make your way to a windy location to spend the night, but decide which is the worst first!
Use insect repellent like Smidge or Avon Skin So Soft to keep insects at bay.
Are you thinking of hiring a motorhome?
Driving a motorhome for the first time in the UK
Tips on Wild Camping in Scotland
Disaster with a motorhome cupboard