Driving A Motorhome For The First Time In The UK
Everything has its first time, and when it comes to driving a motorhome there are a few things you need to keep in mind when driving a motorhome for the first time.
No matter who you are, any ability you have now, whether it is cooking, driving, or even walking, was acquired at some point. The notion of driving a motorhome for the first time may seem intimidating, but, like everything else, it won't take long for you to get used to it, and you'll enjoy the feeling of being behind the wheel as much as the freedom it provides.
However, if you need a little more assurance, we've put up a list of items to bear in mind before your first time driving a motorhome.
Why It's easier than you might think to drive a motorhome?
The vast majority of motorhomes do not require any special skills or training to operate. Although they are larger than a car, anyone who can drive a car can drive a motorhome. This depends on your driving license, basically, if you passed your driving test before January 1997, you have a C1 entitlement which means you can drive a vehicle over 3500kg up to 7500kg. That said the vast majority of motorhomes are 3500kg or under. We will cover this in more detail in another blog.
Anyone with a regular driver's license can drive a motorhome because the controls are the same as in a car. They're a little bigger, but the controls are the same, so you shouldn't have any trouble setting them up.
The wing mirrors are larger – your rearview is limited, but the wing mirrors are massive, giving you plenty of visibility down each side of your priory Rentals motorhome.
The driving position is superior — a motorhome's cab is much higher than your car's, giving you a fantastic view of the road ahead and all around you.
Long-distance van drivers want a comfortable place to sit, so motorhomes take top-of-the-line van seats and add luxurious upholstery and additional driver amenities.
You don't feel the weight as much as you might imagine – motorhomes are much larger and heavier than your car, but they're built on the foundations of heavy-duty commercial trucks designed to transport large cargo. The steering and other controls were created with the goal of making moving items significantly heavier than a motorhome body.

How to Get the Most Out of Your Motorhome
If you let it, driving a motorhome may be a soothing, almost serene experience. Allow your driving ability to change and the stress in your body to dissipate with each passing hour.
You're not in a hurry, so don't rush. When you're driving your car, you're probably going somewhere for a certain reason, usually at the same time as everyone else on the road, and you need to be somewhere at a specific time. With a motorhome, however, this is not the case. You're not on a timetable; you're on your own schedule, so relax and enjoy the ride. Take it slowly, steadily, and comfortably.
Allow each maneuver to be a special occasion – motorhomes do not dart in and out of traffic; instead, they move slowly and thoughtfully. Plan ahead of time, signal early, and sweep gracefully from lane to lane.
Don't be hesitant to ask for assistance when parking — you're unlikely to be traveling alone, so use your passengers to assist you. When it's a group effort, there's less tension.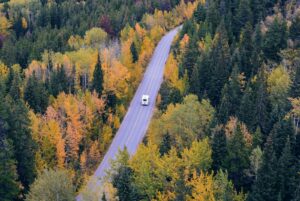 The Best Ways to Drive a Motorhome
Driving a motorhome is similar to driving a car, with the exception that you must account for the extra size, weight, and length when driving and parking.
Reverse into parking places — it's usually easier than driving forwards, and it makes driving out a lot easier and less stressful – pedestrians don't seem to notice you're not looking!
Take corners and bends much wider – It's simple to get your motorhome's front wheels around a corner, but you'll need to make sure the back wheels do as well, so drive a little past the corner while turning.
Gently accelerate and brake – motorhomes aren't designed for quick 0-60 times, and their weight means that 60-0 takes longer as well. Gradually increase your speed, and use your enhanced driving position to prepare in advance and brake sooner when necessary.
On vulnerable routes, be extra cautious — motorhomes are high-sided vehicles that are quite lightweight for their size. This means you'll be more aware of crosswinds, so take it easy if the weather changes.
Know how much height of your motorhome  – There should be a note in the manual or in the cab of the Motorhome telling you how tall it is. Keep an eye out for signs that say "max headroom" or "low bridge." Many sat-navs can also be programmed to keep away from low bridges.
Pull in to passing places on single-track roads — Do you remember being caught behind caravans for miles, hoping the driver would pull over to allow others to pass? Now's your time to show those motorhomer's how it's done and earn some extra positive energy!
Don't ever be frightened to give driving a motorhome a try.
When it's all said and done, there's nothing stopping you from climbing into the enormous plush chair that serves as the driver's seat and taking the wheel of a luxury motorhome. Driving a motorhome will be far easier than you might imagine, and we're confident that when you've done it once, you'll want to do it, again and again, to enjoy life at a slower pace, both on the road and at the campsite.
#motorhome #accessories #vanlife #caravan #campervan #selfbuild #scotland #driving #motorhome
Why not join our Facebook Group and sign up for our Newsletter for Tips and Suggestions, and when new products are released
Check out the Useful Links Page for more goodies
Motorhome and Caravan Clubs for Owners
Tips on Wild Camping in Scotland
Disaster with a motorhome cupboard