Connecting Your Motorhome to the Internet
Connecting Your Motorhome to the Internet
Examples of How to get WIFI in your Motorhome or Camper 
How to get internet and Wi-Fi and mobile on the road
Are you looking for a way to receive wireless internet in your motorhome or camper?
Do you need a 4G antenna, a Wi-Fi dongle, or a router?
Everything you need to know about getting the internet into your motorhome.

Connecting Your Motorhome to the Internet
There are a few alternatives for internet connectivity in a motorhome.  If finding a cafe or restaurant with wifi is not an option then here are a few options that are available, one of which you probably already have.
A mobile phone or iPad/tablet with a SIM card for connection to a phone network.
Wifi dongle (all the UK phone network providers sell these).
A dedicated internet system/satellite is installed in your motorhome.
But don't worry if this sounds a bit too difficult it's actually quite easy.
Using a phone, iPad/tablet for mobile wifi or internet
Your mobile phone should already be set up to utilise data if you're in your own country. You should be able to connect to the internet on your phone providing you have a mobile signal. When using your mobile phone you can set your phone up to act like the router you have at home and allow other devices that do not have sim card access to a phone network to connect to it. This is done by way of using your phone as a 'wifi hotspot'.
Sim Deals From O2
Setting up your phone as a 'Wifi Hotspot'
The Hotspot setting will be in the phone's settings menu and
When it is first activated you will need to set up a name for it and a password, this will prevent other devices nearby from connecting to your data stream and consuming all your data allowance. On your device search for your phone hotspot as you would when connecting to any wifi network, enter your password, and bingo! you're connected.
Using Mobile data abroad
If you are heading outside of your home country, ensure sure your phone supports data roaming and that you have a plan that allows you to access data in other countries at a lower cost.
Things have changed since Brexit so you need to check that your network provider will not send you a massive bill for roaming charges, also be aware that the UK networks may say you have free or cheap roaming charges but there will most certainly be a data cap on how much you can use and you may still rack up a big bill at the end of your holiday if you exceed that data cap.
Keep in mind that Apps like Netflix, Facebook, TV, and radio will use up much more data and you will reach that cap limit quicker than you expected.
How to use a wifi dongle to access mobile internet in a camper or motorhome
The disadvantage of using your phone for the internet is that if you're not careful, it may quickly deplete your mobile data, leaving you without any for the rest of your vacation.
A wifi dongle is a very convenient way to connect to the internet. All the major UK phone networks (O2, Vodafone, EE, and Three) sell dongles with options of Pay as you go or a  contract, Occasionally you will find really good deals with unlimited data, so shop around!
As with the phone, the dongle will connect as long as there's a phone signal.
Purchasing a mobile wifi dongle's SIM card
To utilise a mobile wifi dongle, you'll need to get a SIM card. Prepaid ones are excellent, but check the fine print: once they're activated, you usually only have a certain amount of time to utilise the data before it expires. Some Pay as You Go offers will give unused data rollover to the maximum of the plan monthly allowance, again shop around.
How many devices can you connect to a motorhome wifi dongle?
The number of devices that can connect to one dongle varies. But remember in areas of weaker signals the more devices using the dongle the quality of the internet will reduce and lead to movie pixelation and buffering, so films that you are used to watching in 4k could drop to 1080p or even 720p.
Recommended Motorhome Wifi
The Netgear M1 MR1100 4G Router is popular with seasoned motorhomers, the router is unlocked meaning any network sim card will work in it, the MR1100 has download speeds of up to 1 Gbps and will connect up to 20 Devices. Just what you need to keep the kids happy and family evening viewing.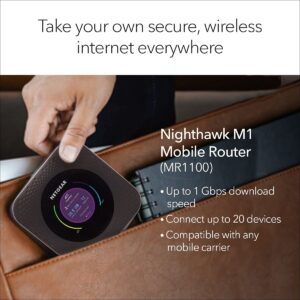 Kuma Motorhome Wifi Internet Booster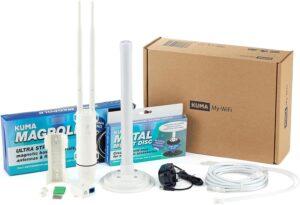 Kuma Motorhome Wifi Internet Booster
A motorhome wifi booster is an antenna or tiny box that attaches to the roof or exterior of your Motorhome or camper and amplifies whatever wifi signal it receives. This allows you to connect faster but it needs a wifi signal to amplify and not a phone network signal.
It can be secured permanently or with suction cups as this method does not require making holes in your camper roof/wall and most can be powered by either 12v or 240v perfect for boosting the wifi signal while you are on campsites.
#motorhome #accessories #vanlife #caravan #campervan #selfbuild #scotland #motorhomewifi
Why not join our Facebook Group and sign up for our Newsletter.
Check out the Useful Links Page for more goodies
Newsletter link: http://eepurl.com/hND3Ir
Motorhome and Caravan Clubs for Owners
Driving a motorhome for the first time in the UK
Tips on Wild Camping in Scotland
Disaster with a motorhome cupboard