Best Motorhome Petrol Generator UK
Motorhome portable petrol generators are a popular choice for motorhome use because they offer a number of benefits that make them ideal for powering your motorhome or campervan. Here are just a few reasons why petrol generators are the best portable generators for camping and an excellent choice for motorhome use:
Portability:
Petrol generators are typically smaller and lighter than other types of generators, making them easy to transport in a motorhome. This is particularly useful if you plan on traveling to remote locations where access to electricity may be limited.
Ease of use:
Petrol generators are simple to operate, with most models featuring a straightforward on/off switch and a fuel gauge. This makes them an ideal choice for those who are new to using generators.
Wide availability:
Petrol is a widely available fuel, meaning that you should be able to find it at most petrol stations and convenience stores. This makes it easy to refuel your generator while on the road.
Reliability:
Petrol generators are generally reliable and require minimal maintenance, making them a dependable choice for powering your motorhome.
Versatility:
Petrol generators can power a wide range of electrical appliances, including laptops, TVs, and fridges. This makes them a versatile choice for those who need to power multiple devices while on the road.
Readily available power no matter what the weather or time of day.
Overall, petrol generators are an excellent choice for motorhome use due to their portability, ease of use, wide availability, reliability, and versatility. If you are planning on using a generator to power your motorhome, a petrol generator is definitely worth considering.
Link For USA
Maxpeedingrods MXR 3500 Inverter Generator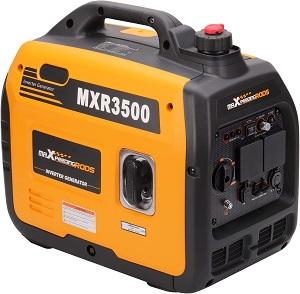 10 Reasons MaxPeedingrods MXR3500 is the best motorhome petrol inverter generator
Maxpeedingrods MXR3500 Inverter Generator
Maxpeedingrods MXR3500s Dual/Fuel Generator
Power Up Your Adventures: Exploring the Best Motorhome Generator – MaxpeedingRods MXR3500
Maxpeedingrods MXR5500 Inverter Generator 5 KVA 5.5 KVA
Maxpeedingrods MXR5500 Inverter Generator
Best Portable Generators For Camping in The UK
Shop YouTube Channel youtube.com/@johnnysbackyard/?sub_confirmation=1
Why not join our Facebook Group Motorhome Touring Scotland? https://www.facebook.com/motorhometouringscotland
Sign up for Johnny's Back Yard online Store for Motorhome & Caravan Accessories Newsletter and we will let you know when new products are released. Newsletter link: http://eepurl.com/hND3Ir
Website Store https://www.johnnysbackyard.co.uk
Check out the Useful Links Page for more goodies https://johnnysbackyard.co.uk/useful-links-and-things/recommended-campsites/
Support the shop https://www.paypal.com/donate/?hosted_button_id=MZ4U3STTL4YV6
YouTube https://www.youtube.com/channel/UCMO8bf5oorGtPxHGCPzg6bw/?sub_confirmation=1
Twitter https://twitter.com/MotorhomeandC
Instagram https://www.instagram.com/johnnyburr3
Facebook https://www.facebook.com/groups/179155772711444
Pinterest https://www.pinterest.co.uk/johnnyburr3