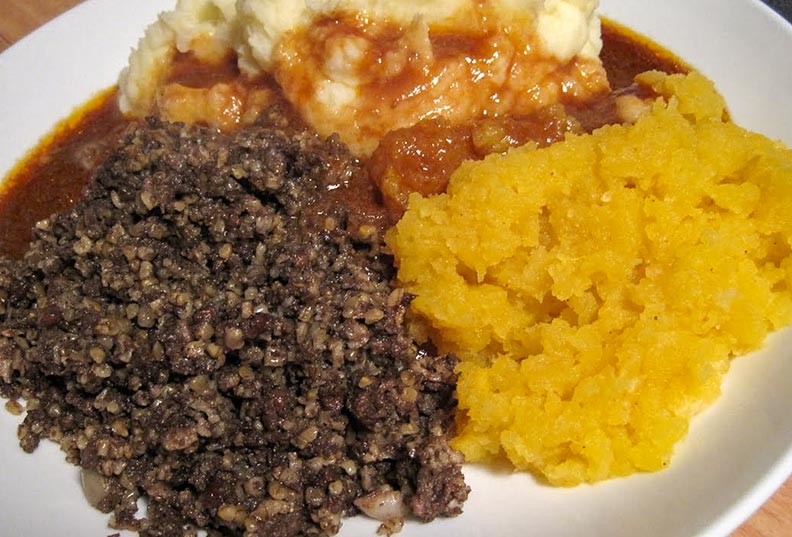 Foods of Rural Scotland
It would be beneficial for individuals who have a journey to the Highlands planned to be aware of what to expect while travelling to Scotland's most remote regions. In spite of the fact that Scotland and the UK share many other cultural aspects, such as media and governance, there are many dishes in Scottish cuisine that are novel and even unique to the nation.
Food is a big part of the experience that the Scottish Highlands have to offer. It is essential to immerse oneself in the local food, ideally with the freedom to move about. Finding a reliable company that specialises in motorhome rentals in Scotland will give you plenty of chances to explore the country and look for incredible restaurants. In addition, you might get the chance to set up a BBQ next to the motorhome and enjoy the food on a different level by actually cooking it.
Whatever one's plans are for consuming rural Scottish food, it is unquestionably worthwhile a try. Here are some suggestions on what to order if you want to learn all the delicious secrets of Scottish food.
Cullen skink
It's not really sold by the name, is it? However, it has nothing at all offensive about it. Cullen skink, a rich, creamy soup cooked with smoked haddock, is a flavorful comfort meal option. With a piece of crusty bread, a blanket, and the concoction's ingredients of onions, potatoes, milk, and parsley, it's pure paradise.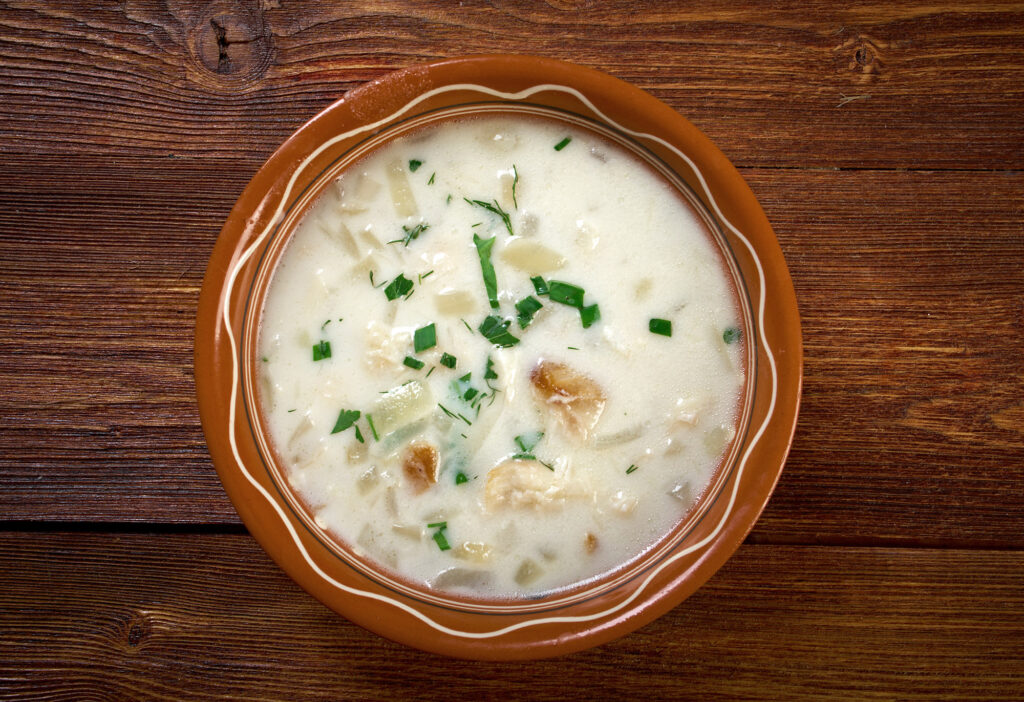 Deep-Fried Mars Bars
Like Marmite, deep-fried Mars bars will either be loved or despised by consumers. The idea is often too gluttonous to make people feel sick, but after giving it a go, the savory/neutral flavour of the batter encircling a Mars bar that is quickly melting and becoming gooey is just too much to resist.
It was first created in Stonehaven in 1992, and it has lately gained some notoriety to the point that Glasgow Central Station's Blue Lagoon chip store boasts that Justin Bieber was served one outside. Take what you will from that.
Scottish Tablet
It is softer than rock, more crumbly than fudge, and sweeter than caramel. But like a stick of rock, it's the sweet item that guests pick up on a day excursion to bring home to the kids, and it makes the ideal present for the family sugar addict.
Fish and Chips
A chippy along the Scottish coast offers a unique twist on the traditional British dish of fish and chips. Consider renting a campervan and travelling along the Scottish coast to a chippy on the edge of an island that serves fresh fish from the sea and garden-fresh chips. It occurs frequently. Scotland has a flourishing fishing sector that produces a wide variety of seafood, including salmon, mussels, and other delicacies.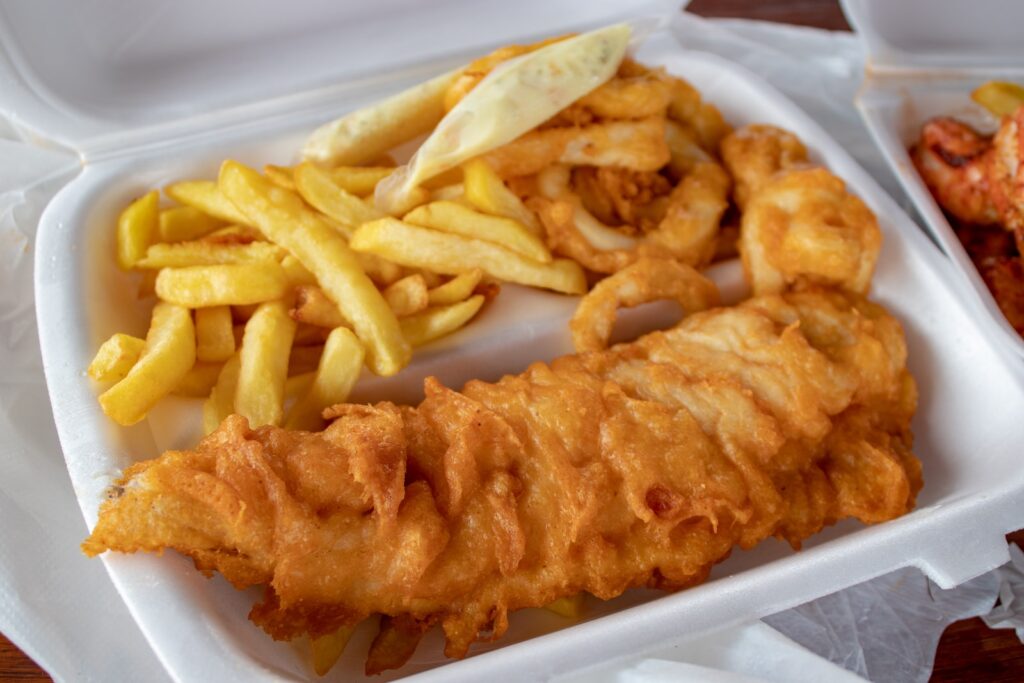 Chicken Tikka Masala
Okay, so there is some controversy around the veracity of the fabled chicken tikka masala narrative, but try saying that to a Glaswegian.
According to the legend, a typical Glasgow Indian takeaway ran out of portions of two of their curries—one with a tomato basis and another with a cream base—so they blended the two together to get something out the door. Wikipedia, on the other hand, goes so far as to refer to Ali Ahmed Aslam as the "proprietor of a restaurant" in Glasgow who "improvised tikka masala from a can of tomato soup."
In any case, this radioactive orange curry pairs nicely with a can of equally nuclear orange Irn Bru on a Friday night. The only true hard and fast guideline for making it is to "include chicken."
Haggis, Neeps and Tatties
Haggis has to be included on this list, of course. It is impossible to travel the Highlands without coming upon a mystical wild haggis (or haggis, in plural). Some claim that they run in circles because they have two legs that are longer than the others. With fluffy hair that resembles a Heeland coo's mane, it has an animal hybrid appearance (Highland cow). In reality, Kelvingrove Art Gallery and Museum has a live specimen of a wild haggis.
Okay, I'm kidding, but most people would be turned off by a description of what haggis is actually like as a culinary product. All one needs to know is that the main ingredients for what is likely the tastiest meal in the British Isles are mince, onion, and a lot of spicy spices.
Also tasty are neeps and tatties. They are known as turnips and potatoes to non-Scots.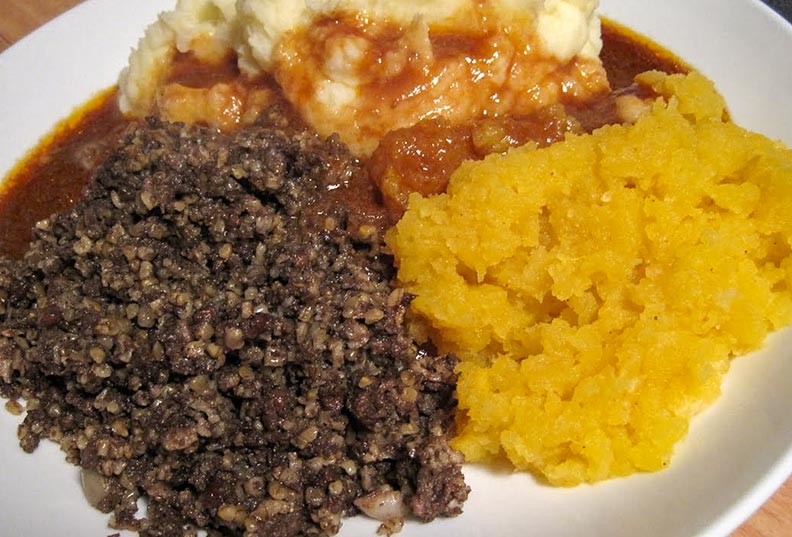 Haggis Pakora
Nowadays, Scotland has a sizable Middle Eastern community, and someone had the brilliant notion to deep fry haggis like any other pakora. Since then, they haven't turned back. A lovely fusion of cultures that the world needs to witness more of.
Full Scottish Breakfast
With a few notable exceptions, a full Scottish breakfast follows the same general concept as a full English breakfast. This is where visitors first encounter black pudding, and once again, happiness is ignorance in this situation. It's simple to enjoy the sausage and its crumbly texture as long as one doesn't inquire as to its ingredients.
With a few notable exceptions, a full Scottish breakfast is conceptually similar to a full English breakfast. This is the location where visitors first encounter black pudding, and as always, ignorance is bliss in this situation. It is simple to appreciate the sausage and its crumbly texture as long as one doesn't inquire as to what it is comprised of.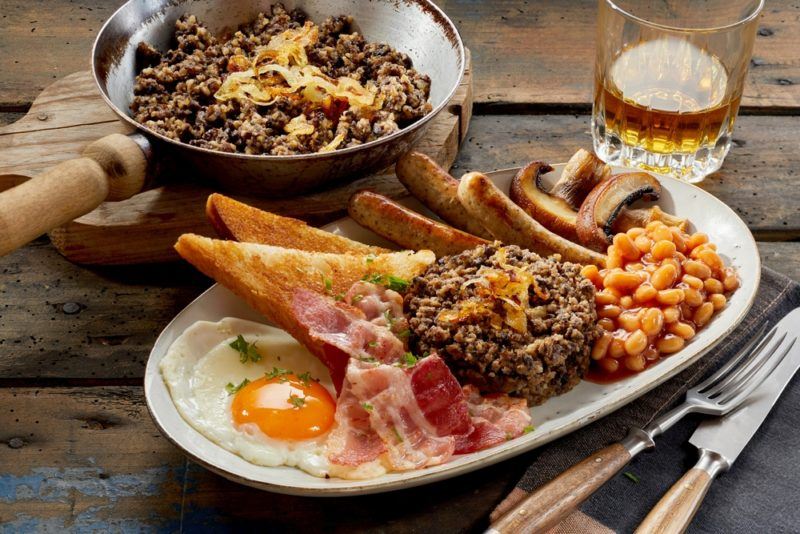 Foods of Rural Scotland
Why not join our Facebook Group Motorhome Touring Scotland?
Sign up for Johnny's Back Yard online Store for Motorhome & Caravan Accessories Newsletter and we will let you know when new products are released.
Website Store https://www.johnnysbackyard.co.uk
Check out the Useful Links Page for more goodies
Newsletter link: http://eepurl.com/hND3Ir
Support the channel https://www.paypal.com/donate/?hosted_button_id=MZ4U3STTL4YV6
YouTube https://www.youtube.com/channel/UC311CaE4YoIEKkJLIJCEl7Q
Twitter https://twitter.com/MotorhomeandC
Instagram https://www.instagram.com/johnnyburr3
Facebook https://www.facebook.com/groups/179155772711444
Pinterest https://www.pinterest.co.uk/johnnyburr3
Buy Me A Coffee https://www.buymeacoffee.com/johnnyburr
Foods of Rural Scotland