Himo Takes The Lead As The Best Folding Motorhome E-Bike

Introduction:
Greetings, fellow cycling enthusiasts! I am thrilled to share my personal testimonial about a revolutionary product that has truly taken the cycling community by storm: the Himo Folding E-Bike. With its outstanding technical details, exceptional performance, and unrivaled convenience, this e-bike has quickly earned the title of the best folding motorhome e-bike on the market.
Compact Design and Easy Foldability:
One of the standout features of the HimoFolding E-Bike is its compact design, specifically engineered for motorhome adventurers like myself. This e-bike seamlessly integrates foldability into its core, making it incredibly easy to store and transport. With a quick-release latch system, it effortlessly folds down into a compact package, allowing you to conserve space without compromising on performance.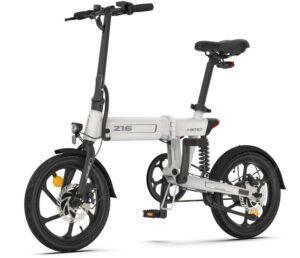 Powerful Electric Motor:
Underneath its sleek exterior lies a robust electric motor that delivers exceptional power and performance. The Himo Folding E-Bike boasts a high-torque 750-watt brushless geared hub motor, offering an impressive top speed of 20 miles per hour (32 kilometers per hour) on electric power alone. The motor provides the perfect balance between power and efficiency, ensuring a smooth and exhilarating ride every time.
Long-Lasting Battery:
The Himo Folding E-Bike has a top-tier 48-volt 14 amp-hour (Ah) battery. This advanced lithium-ion battery provides an extended range of up to 35 miles (56 kilometers) on a single charge, making it an ideal choice for extended motorhome adventures. Furthermore, the battery is easily removable, allowing for convenient charging both on and off the bike.
Responsive Pedal Assist System:
The Himo Folding E-Bike incorporates a pedal assist system (PAS) with five levels of assistance, enabling riders to effortlessly conquer steep inclines or cover long distances without breaking a sweat. The PAS seamlessly detects your pedaling speed and adjusts the motor's power output accordingly, providing a smooth and intuitive riding experience. You'll love how effortlessly this e-bike propels you forward, turning even the toughest terrains into a breeze.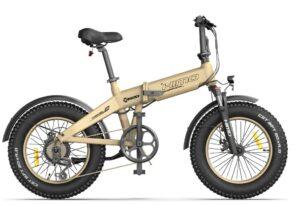 Durable and Reliable Build:
The Himo Folding E-Bike is constructed using high-quality materials. The frame is made from lightweight yet sturdy aluminum alloy, ensuring both strength and portability. The bike features front suspension and wide puncture-resistant tires, providing excellent shock absorption and enhanced stability on various terrains. Rain or shine, these e-bikes are built to withstand the elements and keep you riding in style.
Conclusion:
As an avid cyclist and motorhome enthusiast, I cannot recommend the Himo Folding E-Bike enough. Its combination of compact design, powerful motor, long-lasting battery, responsive pedal-assist system, and durable build make it the undisputed champion in the realm of folding motorhome e-bikes. Whether you're exploring scenic trails or navigating bustling city streets, this e-bike will exceed your expectations and elevate your riding experience to new heights.
Invest in the Himo Folding E-Bike today, and embrace the joy of effortless cycling on your motorhome adventures. It's time to unfold your freedom and embark on unforgettable journeys with the best folding motorhome e-bike at your side. Happy cycling, everyone!
Himo The Best Folding Motorhome E-Bike
Himo The Best Folding E-Bikes The Perfect Combination of Convenience and Performance
1 HIMO C26 MAX E-Bike
2 HIMO ZB20 MAX Fat Tyre Folding E-Bike
3 HIMO Z20 Folding Low Step Through E-Bike
4 HIMO Z16 Electric bike with low step-through frame