The Hidden Peril For UK Ferries!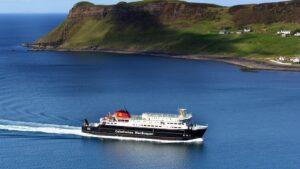 The Hidden Peril For UK Ferries!
The Fremantle Highway was sailing from the German port of Bremerhaven to Port Said in Egypt when it caught fire about 17 miles north of the Dutch island of Ameland.
An unnamed K Line spokesperson was quoted as saying "There were 3,783 vehicles on the Freemantle Highway, including 498 EVs. The spokesperson did not give any information about the make of the vehicles on the ship. Whilst this example is extreme the factors involved in a thermal runaway fire in an enclosed space such as a ferry are very real, alarming, and a considerable risk.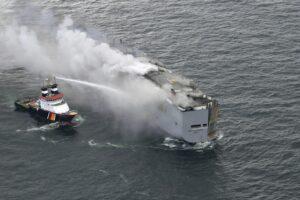 Amidst mounting apprehensions over the potential fire risk, there is growing concern about the 'hidden threat' posed by the transportation of electric and hybrid vehicles on board Scotland's ferries.
What is the problem?
Lithium-ion batteries, while powering electric vehicles efficiently, are a fire hazard if damaged, overcharged, or exposed to extreme temperatures. If a fire were to break out on a ferry carrying EVs, it could pose significant safety risks to passengers, crew, and to the vessel itself.
A lithium iron phosphate (LiFePO4) battery fire thermal runaway refers to a dangerous and uncontrolled chain reaction that occurs in lithium iron phosphate batteries when they experience overheating or damage. During thermal runaway, the battery's temperature increases rapidly, leading to the release of oxygen and high-energy electrolytes. This, in turn, further accelerates the reaction, creating a self-sustained and escalating cycle.
The Ferries and Eurostar
Several car-carrying operators, including Caledonian MacBrayne, have expressed their concern over carrying EVs and some European ferry companies have even banned them on board theirs. Prevention is the key to minimizing the risk of thermal runaway fires in these batteries. Calmac website statement on Evs.
It is essential for the transportation industry to continuously assess and address the safety concerns associated with new technologies, such as electric and hybrid vehicles, to ensure the safe transportation of passengers and goods on their ferries
Safety
This brings the question, do you feel safe on a ferry knowing that there are electric vehicles on board? Personally, I'm going to think twice before I decide if I should take a ferry while these issues are unresolved. Even Eurostar doesn't escape these risks. Interestingly there seems to be no information or cautions on traveling with Eurostar, yet with their previous experience with fires in the tunnel I would have thought it to be a major concern!
All transport companies say that they take passenger safety very seriously and it is their premier concern, but after recent events with the Fremantle Highway in the North Sea, I fear that it will take a tragedy before any decision is made on EVs and ferry transport in the UK. It's not a matter of if, it's a matter of when.
Not enough people are asking these questions with regard to their safety. These issues need to be addressed NOW. But alas I think it will take an EV fire on board a ferry before anything is done to prevent one!!
Available Information on the Ferry Companies and EVs
Calmac Website on Evs (This does not go far enough)
Nothing specific on DFDS, Eurostar websites
Amazingly Brittany Ferries provide 220V 16A EV charging points. These are actually used for refrigeration trucks) on board their ferries, the charging phase of these batteries is when they are most susceptible to catching fire.
Motorhome & Caravan Accessories Website Store https://www.johnnysbackyard.co.uk
Free Off-Grid Motorhome Camper Van Guide https://johnnysbackyard.co.uk/c7kc
Wish List on "Buy Me a Coffee" It would be so awesome if you could support me and help better my content on YouTube. https://www.buymeacoffee.com/johnnyburr/w/6969Shop
Holiday Heath – Start your vacation the healthy way – Download a Free 20-page booklet on "The Benefits of Collagen"https://fbatb.clickera.com/1f5da9feb947
YouTube Channel youtube.com/@johnnysbackyard/?sub_confirmation=1
Why not join our Facebook Group Motorhome Touring Scotland? https://www.facebook.com/motorhometouringscotland
Sign up for Johnny's Backyard for Motorhome & Caravan Accessories Newsletter. Newsletter link: http://eepurl.com/hND3Ir
Check out the Useful Links Page for more goodies
https://johnnysbackyard.co.uk/useful-links-and-things/recommended-campsites/
https://c8ke.com/johnnysbackyard
Support the shop https://www.paypal.com/donate/?hosted_button_id=MZ4U3STTL4YV6
YouTube https://www.youtube.com/channel/UCMO8bf5oorGtPxHGCPzg6bw/?sub_confirmation=1