Portable Power Stations, Ecoflow, Jackery and Power Oak – Portable Solar Panel Generators
Ecoflow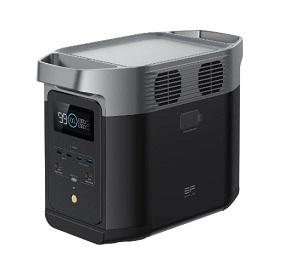 Ecoflow Delta 2 portable power station promises long life and flexibility
Portable power generators aren't only helpful for campers in this age of skyrocketing energy prices; they may also give typical families a source of affordable, dependable electricity. The Ecoflow Delta 2 replaces the organization's earlier Delta product and promises a longer lifespan as well as the capacity to run the majority of home appliances.
The standard product comes with a 1024Wh battery, or slightly over a kWh, which is equivalent to 16 full charges of a standard laptop, 8 hours of TV, or 31 hours of wireless router use. With a Delta 2 Extra Battery or a Delta 2 Max Extra Battery, power may be increased to 2kWh or 3kWh. The latter would provide around one-third of the daily power consumption average for a UK household.
Powers most household appliances
The Delta 2 has four conventional plug outlets and can support devices up to 1800W with a boost capability of 2200W, but the smaller EcoFlow River Pro can only support devices up to 1200W. That will allow you to directly run 90% of your home's appliances off of a battery. In addition, USB ports are available for charging devices like cell phones.
Although campers use this type of device most frequently, homes trying to reduce their power expenses may also find the large capacity of the Delta 2 to be helpful. While power is less expensive for those on split tariffs, the Delta 2 may also be charged for free with optional solar panels.
The Delta 2 can be charged to 80% of its capacity on mains power in approximately 50 minutes and to 100% in 80 minutes. The battery can be fully charged in three to six hours using a 400W solar panel.
The Delta 2 may also function as an EPS system, automatically switching to battery power in the absence of mains power (or solar).
Long-lasting
The Delta 2 can charge for up to ten years using 3000 charge cycles using LFP batteries, which are identical to those found in Tesla automobiles. Comparatively, Li-ION base batteries have a lifespan of about 500 cycles.
***
Goal Zero Yeti 200X, A handy portable power source for your home or car
When traveling or needing to make sure your phone's battery lasts through a concert, portable battery packs are useful. However, the majority of battery packs won't last long enough to be used as an emergency power source or for extended weekends away from an outlet, like a camping trip.
Power stations are more suited to handle those circumstances where mains power is not readily available. The Goal Zero Yeti 200X, which, as its name suggests, has a battery capacity close to 200Wh—187Wh to be exact. In its small size factor, it has six distinct ports.
The 200X is 7.9 x 5.1 x 5.1 inches and weighs five pounds. The station has a handle on top that makes carrying it simple. The housing's top and bottom are composed of plastic, while its middle is covered with a metal shell.
Yeti 200x Goal Zero
To charge the station, an external solar panel may be connected to an 8mm connection on the rear. The portable Yeti 200X is lightweight and has a grip on top.
The front of the 200X divides its six ports into three areas from left to right: a conventional power outlet; a 12V vehicle charger connector; a 6mm barrel plug; a USB-A port; two USB-C ports; and another USB-A port. A power button is located above each of those divisions. To wake the station and turn on its display, which will show you how much energy is still left, press the corresponding power button once. To make the button's associated port(s) usable, press it once more.
Different output levels can be found on USB ports. The 5V/2.4A capacity of conventional USB connectors is available. While the other USB-C port can output up to 60W and charge the power station, the first one can take up to 18W of electricity. The 220V outlet has a surge level of 200W and can support devices up to 120W. Both the main outlet and the 60W USB-C connector provide more than enough power to quickly charge a phone or a laptop.
An 8mm barrel plug for charging the station with the supplied power source or a solar panel is located on the rear of the 200X. In order to charge the station using the 12V socket in your car, you may additionally purchase a 12V adaptor from Yeti for around £20.00
A total of 159.644Wh of output can be achieved while testing from 100 percent till it shut down. The efficiency of the 200X is 85.37 percent as a result of its output, which is just a little less than the 86.56 percent average.
At the end of each rundown test, I always press the power button on whatever battery pack or power station I'm testing to ensure it's completely empty. With the Yeti 200X, it always stopped charging with three or four percent of a charge left.
If you intend to keep the station on a shelf, Goal Zero suggests charging it every three months.
The Yeti 200X is not inexpensive. However, it's an investment in the security of having reliable access to electricity, whether at home or in your car. It costs the same as the Anker Powerhouse 200, but it is more effective and includes a few more ports.
The Yeti 200X is a reasonable option if you're searching for a power station that isn't too big and manages its capacity properly.
PowerOak EB150, 1500Wh Portable Power Station
If the station will be kept on a shelf, Goal Zero advises charging it every three months.
It costs a lot to buy a Yeti 200X. But whether you use it at home or in your car, it's an investment in the security of having access to a fair quantity of electricity. The Anker Powerhouse 200 is comparable in price, however, this model is more effective and offers a few more ports.
The Yeti 200X is a good option if you're searching for a power station that isn't too big and manages its capacity properly.
Options are also available for the PowerOak Portable Power Station at 400Wh, 500Wh, and 2400Wh.
PowerOak EB150, 1500Wh Specification
Battery type: Lithium Battery
Battery capacity: 1500Wh
Lifespan: 2500 and above cycle life, Charge after 3 months
Dimensions 37.1 by 16.5 by 36.6 centimeters
Design: Designed with a display screen and with LED indicator lamps. Comes with a cigarette lighter port and cooling fans.
Solar: 500W
Weight: 37.9 pounds
Inputs and outputs included: 2x230V pure sine wave AC outlets, 4 by 5V/3A USB, USB-C (45W), and 12V/9A for a carport.
Panels Included/ What's in the product kit? AC wall charger, a solar charging cable, user manual
Devices Compatible With PowerOak EB150, 1500Wh Portable Power Station
Numerous gadgets, some of which require a lot of power, are compatible with the PowerOak EB150, 1500Wh. The Notebook, an LED light, a CPAP machine, a tiny fridge, a TV, a laptop, a clothes dryer, and a blender are some examples of compatible gadgets. Others include a washer, a projector, a coffee machine, and a drone.
Advantages/Reasons to run it.
The Unit works best when numerous potentially energy-intensive gadgets need to be powered. eight or more charging ports.
Fast charging for its high capacity
Twin SP200 solar panels at 200W may be fully charged in 5-5.5 hours or 7-8 hours using a power outlet.
suitable for people who want to be off the grid for a long time or who want to camp for a longer time. There will be no worries about your battery dying.
After extended usage, a clever cooling system will keep the power plant in perfect shape; failures won't be a problem.
Disadvantages/Reasons to avoid it.
It might not be the most portable option. Some users might find it difficult to transport for a weekend excursion due to its weight.
It is not the least expensive choice available because it costs more because of its power output.
Not the best choice when looking for tiny gadget power alternatives. You must seek less expensive and more powerful options.
What is the PowerOak EB150, 1500Wh Is Perfect For?
The finest supplementary power supply to operate medium- to power-intensive devices is the PowerOak EB150, 1500Wh. It may be at work, at home, or simply when thinking about spending many days at a campground. The power plant will also be helpful while going off the grid.
PowerOak EB150, 1500Wh Summary and Verdict
The PowerOak EB150, 1500Wh is suitable for a range of power requirements. Devices that require a lot of power can use its 1000W. You won't have to be concerned about crowding the power plant or having to shut down the machinery for capacity reasons.
Even if the weight might be a touch too much for a weekend trip, it is still reasonably portable for a camping trip. In fact, you would almost consider it a portable gadget for use in situations requiring intense concentration but not a constant movement. The power plant comes highly recommended for these requirements and will ensure value for money.
Why not join our Facebook Group Motorhome Touring Scotland? https://www.facebook.com/motorhometouringscotland
Sign up for Johnny's Back Yard online Store for Motorhome & Caravan Accessories Newsletter and we will let you know when new products are released. Newsletter link: http://eepurl.com/hND3Ir
Website Store https://www.johnnysbackyard.co.uk
Check out the Useful Links Page for more goodies
Support the shop https://www.paypal.com/donate/?hosted_button_id=MZ4U3STTL4YV6
YouTube https://www.youtube.com/channel/UC311CaE4YoIEKkJLIJCEl7Q
Twitter https://twitter.com/MotorhomeandC
Instagram https://www.instagram.com/johnnyburr3
Facebook https://www.facebook.com/groups/179155772711444
Pinterest https://www.pinterest.co.uk/johnnyburr3
Buy Me A Coffee https://www.buymeacoffee.com/johnnyburr