The Best Motorhome Petrol Generator?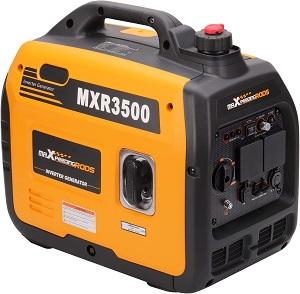 Best Motorhome Petrol Generators
We all love to have continuous power whilst off the grid in our motorhomes and campervans. Today's trend of lithium batteries, solar panels, and inverters is all very good, but longer periods of grey skies will soon lead to flat batteries. This is frustrating when you have kids needing their iPads or your mobile phones need charging. A solution to this is stepping back to the good old days when the only real solution was the good old petrol generator, noisy, smelly, and cumbersome. Today's modern generators are smaller and compact, easy to store quieter, and cheaper to run with little maintenance and make ideal camping generators for motorhomes or campervans.
Enter Maxpeedingrods, a vehicle parts company that branched out and produced the best portable petrol generators for motorhomes and the off-grid camping market. Their best petrol generator is the Maxpeedingrods MXR3500 generator, a stylish and practical unit with sine wave technology and outputs of 3.3Kw and 3.50Kw surge. It is safe for all your sensitive and domestic devices whilst being ultra-quiet (58Db @23ft) and storage is simple due to its compact design the generator is easily stowed in your motorhome garage or under-floor external locker. The MXR3500 generator is easily portable and can be used as a backup power supply at home in the event of a power cut.
What are the benefits of the Maxpeedingrods Portable petrol generator?
Petrol generators are often used in motorhomes because they are portable and easy to use. They can provide a reliable source of power for appliances and electronics, especially when you are traveling or camping in an area without access to electricity. Some of the benefits of using a petrol generator in a motorhome include the following:
Convenience:
Petrol generators are easy to start and use, and they do not require any special training or knowledge to operate.
Portability:
Petrol generators are relatively small and lightweight, making them easy to transport and store in a motorhome.
Reliability:
Petrol generators are generally very reliable, and they can provide a steady source of power in a variety of conditions.
Versatility:
Petrol generators can be used to power a wide range of appliances and electronics, including lights, TVs, laptops, and more.
Cost-effective: Petrol generators are typically less expensive to purchase and maintain than other types of generators, such as diesel or propane generators.
Off-grid power solutions.
Maxpeedingrods inverter generator.
RV petrol generator.
a 1x Inverter Generator
b 1x Spark Plug Socket Wrench
c 1x Owner Manual
d 1x Oil Funnel
e 1x UK Plug
f 1x Generator Parallel Cables
g 1x Screwdriver
h 1x Generator Cover
i 1x Cigarette Lighter Plug
Warranty
Maxpeedingrods warrants all the inverter generators against defects in workmanship under normal use for a period of 2 years from the date of retail purchase by the original end-user purchaser ("Warranty Period"),  and free lifetime technical support and customer service.
Feature
a. 3300W starting watts, 3000W running watts, and up to 8.3 hours run time.
b. Lightweight, weighs just 21kg, easy to transport and store.
c. "ECO Mode", fuel efficiency, and reduced noise.
d. Output pure sine wave, produces clean power and THD≤3%, making it safe enough to run laptops, cellphones, tablets, and other sensitive electronics.
e. Quiet operation of 58dB compared to the sound of a normal conversation, perfect for camping, motorhome, and campervan travel, and more.
f. Double your power with parallel capability.
g. Featuring automatic low oil and overload protection.
Note
1. Do not pull the pull rope to start the machine without refilling the oil. Starting the generator without refilling the oil can cause permanent damage to the internal engine components.
2. All inverter ports are functionally tested in the factory and may contain minimum residual oil or fuel odor, which is a normal phenomenon.
3. Applicable altitude: areas below 5000ft. More than 5000ft will affect its stability and power.
4. Optimum working ambient temperature of generator: 77 ℉. Normal working temperature: 5 ° F to 104 ° F. if the generator is used below 5 ° F, its startability will be affected and the generator is difficult to start; If the generator is used above 104 ° F, its power will be affected, the output power will drop.
Warning
A generator's exhaust contains toxic carbon monoxide, which you cannot see or smell. Breathing carbon monoxide can KILL YOU IN MINUTES. To avoid carbon monoxide poisoning, follow the manufacturer's instructions when operating a generator.
Specification
| | |
| --- | --- |
| Running Watts | 3000W |
| Peak Watts | 3300W |
| Fuel Type | Gasoline |
| Oil Type | 10W30 |
| Engine | 4-stroke 312cc OHV,air-cooled |
| Running Amps | 13A |
| Peak Amps | 14.3A |
| Compatible for AC Voltage | 230V |
| Compatible for AC Frenquency | 50Hz |
| Starting System | Recoil Start |
| Volume Level(23 Feet) | 58dB |
| Fuel Tank Capacity | 4L |
| Oil Capacity | 450ML |
| Quarter-Load Runtime | 8.3H |
| 50% Load Runtime | 4.5H |
| Engine Displacement | 145cc |
| Low Oil LED Alert | Yes |
10 Reasons MaxPeedingrods MXR3500 is the best motorhome petrol inverter generator
Maxpeedingrods MXR3500 Inverter Generator
Maxpeedingrods MXR3500s Dual/Fuel Generator
Power Up Your Adventures: Exploring the Best Motorhome Generator – MaxpeedingRods MXR3500
Maxpeedingrods MXR5500 Inverter Generator 5 KVA 5.5 KVA
Maxpeedingrods MXR5500 Inverter Generator
Best Portable Generators For Camping in The UK
Why not join our Facebook Group Motorhome Touring Scotland? https://www.facebook.com/motorhometouringscotland
Sign up for Johnny's Back Yard online Store for Motorhome & Caravan Accessories Newsletter and we will let you know when new products are released. Newsletter link: http://eepurl.com/hND3Ir
Website Store https://www.johnnysbackyard.co.uk
Check out the Useful Links Page for more goodies https://johnnysbackyard.co.uk/useful-links-and-things/recommended-campsites/
Support the shop https://www.paypal.com/donate/?hosted_button_id=MZ4U3STTL4YV6
YouTube https://www.youtube.com/channel/UC311CaE4YoIEKkJLIJCEl7Q
Twitter https://twitter.com/MotorhomeandC
Instagram https://www.instagram.com/johnnyburr3
Facebook https://www.facebook.com/groups/179155772711444
Pinterest https://www.pinterest.co.uk/johnnyburr3
Buy Me A Coffee https://www.buymeacoffee.com/johnnyburr